LISTEN TO THIS EPISODE ON YOUR FAVORITE PODCAST PLAYER
Pride and passion run deep for all of us in this business. but rising from a deep personal tragedy to open multiple successful concepts takes something more.
In this episode of the Restaurant Rockstars Podcast, I'm speaking with Ms. Lisa Dahl, the CEO and Executive Chef of www.dahlrestaurantgroup.com    Lisa found Sedona, Arizona to be an especially healing and inspiring place to build her concepts. She is a self-taught chef, multiple cookbook author, and company visionary doing great things for our industry and her community.

Listen as we discuss:
Early influences and becoming a noted Chef
Formal culinary education, apprenticeship, or self-learning
Lisa's new cookbook "A Romance with Food"
Appearing on The Food Network's "Beat Bobby Flay"
Leadership style, staff training approach, and the labor crisis
Necessary systems and technology
And what it takes to create successful concept after concept.
We can all be inspired by Lisa's message and guiding light: "Devoted to Excellence and Blessed by Grace"!
Now go out there and Rock YOUR Restaurant!
Roger
Connect with our guest
https://www.instagram.com/lisadahlsedona
https://www.instagram.com/Mariposa_Sedona/
https://www.instagram.com/Dahl_Ristorante_Italiano/
https://www.instagram.com/Cucina_Rustica_Sedona/
https://www.instagram.com/Pisa_Lisa_AZ/
https://www.instagram.com/ButterflyBurger/
THANK YOU TO OUR SPONSORS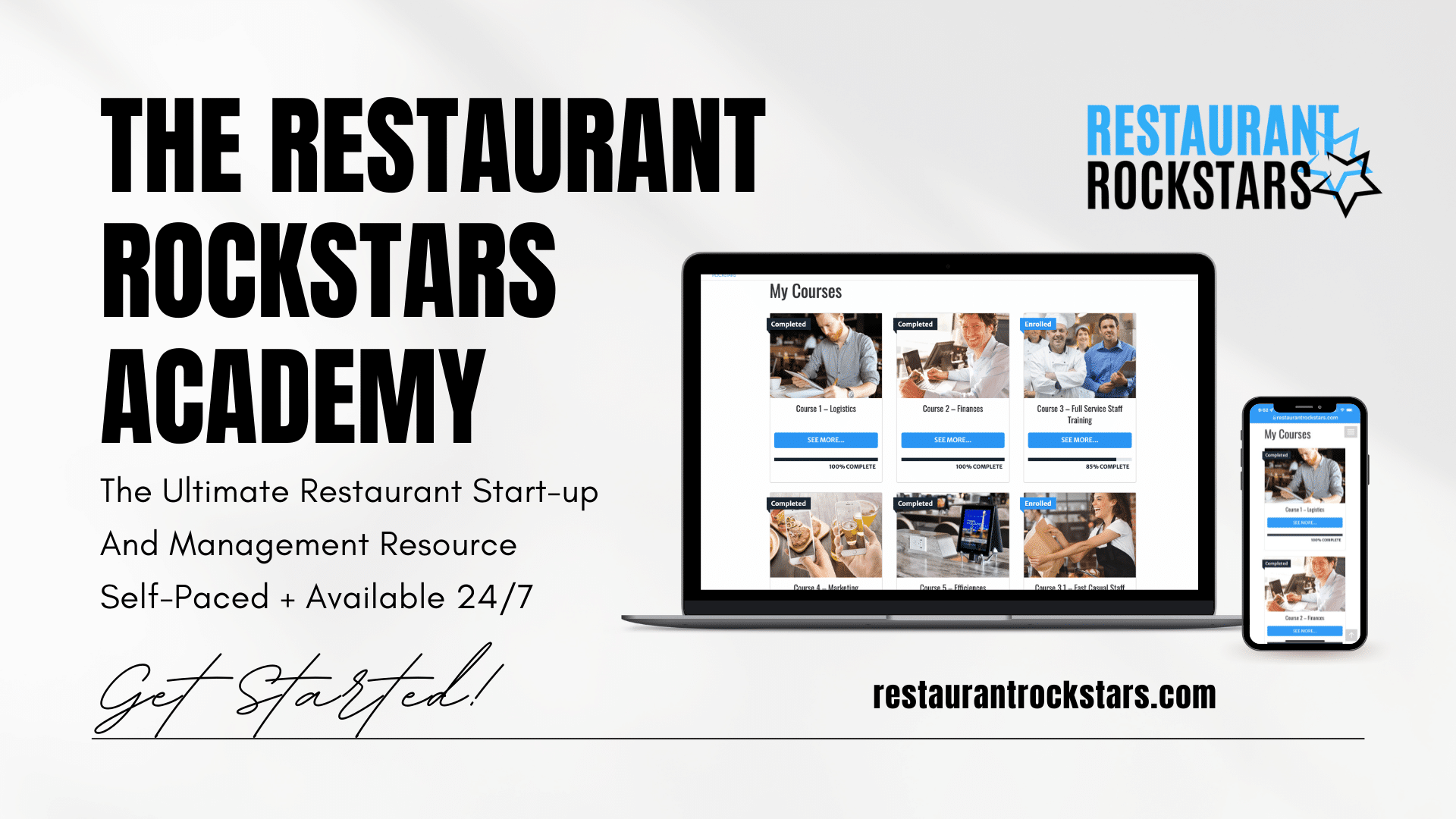 BECOME AN AFFILIATE
Join our movement today to help restaurant owners and managers on a global level  ROCK THEIR RESTAURANTS!  This mission is so important to us that we are offering a crazy generous commission plan.  Check it out!
Episode Transcription:
0:00
So when find someone that really cares about the food, it's kind of an old soul type thing. They're not as prevalent as we might have found five years ago. Now, if you find someone in there, and they really care, and they're talented, you have to tell them why we do the things we do, why we go the extra mile. That's where I really get excited.
0:34
Thank you all for tuning in once again to the restaurant rockstars Podcast. I'm so excited to bring you this episode. I can't remember when I had such a personal connection with a guest. I would consider us kindred spirits in many ways. And you'll you'll find out a little bit about that in the episode, I'm speaking with Miss Lisa doll, who is the CEO and executive chef of the doll Restaurant Group, five beautiful restaurants in Sedona, Arizona. And you might ask why Sedona? Well, to hear Lisa say it, it's all about the spiritual healing place that led her forward from a personal tragedy quite a while ago, and how her Guiding Light right now is a mantra. And it's beautiful thing. It's devoted to excellence and blessed by grace. And that's how she runs her restaurant. So we're going to talk all about that. But also successes and experiments and things that work and things that don't work and labor challenges and how you grow a successful restaurant to multiple concepts. Don't miss this episode.
1:35
You're tuned in to the restaurant rockstars podcast, powerful ideas to rock your restaurant. Here's your host, Roger Beaudoin.
1:50
People go to restaurants for lots of reasons. What the customer doesn't know is the 1000s of details it takes to run a great restaurant. This is a high risk high failed business. It's a treacherous road and SMART operators need a professional guide. I'm Roger. I've started many highly successful high profit restaurants. I'm passionate about helping other owners and managers not just succeed, but knock it out of the park. You don't just want to run a restaurant, you want to dominate your competition and create a lasting legacy. Join the academy and I'll show you how it's done.
2:26
Welcome back, everyone. This is the restaurant rockstars podcast and we're all about helping operators rediscover their passion for this business. We've all been through the pandemic, it's been a challenge. But brighter days are ahead. And now's the time to dig deep, be resourceful, and listen to great guests. Thanks so much with me today, Ms. Lisa Dahll, and she is the CEO and executive chef of the Dahl Restaurant Group in beautiful Sedona, Arizona. Welcome to the show, Lisa,
2:53
and so happy to be here. It's taken a while to get to get nailed down and I'm excited to get going. There you are searching for having me. I'm thrilled to have you because you're such a fascinating personality in this hospitality business of ours. You are a two time cookbook author again and executive chef, you run an amazing group of restaurants. You've been on TV shows like on beat Bobby Flay and all types of things. So we're gonna cover a lot of ground today. But I'm super excited to
3:22
have you here. Me too. And thank you. I'm honored.
3:25
Let's begin with your backstory because you can take us back as early as it all began for you. You're obviously passionate about cooking, you're passionate about hospitality. I want to know all about your early influences, and how you became an executive chef, and then your career trajectory. Just take us through the whole thing.
3:43
Oh, my gosh, that's a lot, Roger, but I'll tell you what, I grew up in Indianapolis, Indiana. And that's some heartland and quite honestly, I grew up with very simple foods, but very flavorful, high quality. I had a great, my mom was a great chef. My grandmother was a great cook. And I had a very special person who came to take care of us, kids. And she became my mom's protege. And she was from the south. And so she really taught me her name is Barbara. And she taught me the meaning of soul food. And so I just always loved to cook. I started dabbling when I was 16. I wanted to convert everyone to becoming a vegetarian. That was very popular in Indiana. So I was almost banned from my family when I didn't want anybody to eat bacon or steaks, but over time that vegetarian cooking I think was really an inspiration for me for what is now so important with the farm to table. Of course like growing up, we always had the best quality of produce so was in such a novelty, to really want the freshest of all ingredients. And so my style is really very close to how I was when I was really young. I still love a lot of vegetarian dishes and I adore vegetables in general. But I've become, of course, very well rounded. And I've always loved to cook. But I was actually in another business. Because I grew up in the women's fashion business. My mother was a very early entrepreneur. And she had three gorgeous women's fashion stores in Indianapolis. And they were very trendsetting to be quite honest. And I loved clothes. And I got all the great stuff that went on sale because it was the more eccentric things. So fashion, and food were my passion. Yeah, I love I think I see the correlations in food and fashion all the time. And the trends that we put on our dining rooms and everything they they follow us so closely. But we love to eat in my family. There were four kids, my dad adored eating, and especially very rich, you know, pizzas, burgers, all the good stuff, but well made. And I loved cooking and dressing. So when when I started my life over and moved from the Midwest, into the bay area of San Francisco, I continued working in boutiques, and then I became involved in the wholesale footwear business. But us people in the fashion business loved hot restaurants. And so once again, you go to Fashion Week, you get the best reservations if they're in New York or LA wherever, because we were always foodies. So I always loved best of those worlds. I'm still crazy about the fashion trends, and the food trends. So a lot, you know, I'm still kind of like a big kid when it comes to, I still love. I'm kind of a natural chef, I don't like to over complicate my dishes. And after 26 years, what makes me the most proud is that people come back over and over and over. And that, to me, is the best thing that you could ever have.
7:33
Well, I totally agree with that, you know, we have so much in common and I won't get into any detail. But I was in the fashion business in Los Angeles. And I had a business well, my ex wife is my business partner. And she and I started a clothing company years ago, and we it was called Lulu M. And it was basically something that started on Venice Beach, just selling body suits that were silkscreen with designs. And all of a sudden a famous store called Fred Segal sort of walked by and they placed this $20,000 order for clothes and we're just selling were kids, you know, we were very young. And all of a sudden now we're in the fashion business. We have a $20,000 order, we're going to quit our jobs, we're going to go. And that actually led to a fashion line that was sold in Bloomingdale's and Nordstrom so it evolved beyond the body suits. But yes, we did that for about three years in Los Angeles. And it was quite a learning curve experience as well. So anyway,
8:26
I can't believe how many things that we have is compatible background. It's unbelievable. It is. And I do know Fred Segal.
8:36
Right you will. That's a Yeah, that's clearly a famous name. And that went that went pretty well, actually. And that was that was a launching pad, you might say that they were definitely an influencer and getting us more and more business. And then we got a sales rep and they were in the California market. And obviously we would sell seasonally and we change the line from season a season and all that kind of stuff happened. And that's just a faint memory in the back in my rearview mirror. But it was all part of development. And then it was part of business. And I learned a lot from that business as well as starting restaurants.
9:05
So restaurant owners and managers. I call this the business of 1000 details and you've got more important things to worry about calculating and paying your monthly sales tax on time. Well, that's where Davo comes in. Davo puts sales tax on autopilot for restaurants. devil uses sales tax data from your point of sale system to set aside the exact amount of sales tax you collect every single day, and then files it and pays it when it's due on time for your restaurant every month. Davo takes just five minutes to set up and once it's up and running, you never have to worry about paying sales tax again. Davo costs 4999 per POS connection per month, and your restaurant can try Devo for the first 30 days free devil was created by a successful restaurant chef and owner who knows what's important for your operation. Time is money and you've got more important things to focus on, like pleasing your guests. If you can't put a price on peace of mind, why not try Dabo for the first 30 days at Davosalestax.com. Yeah, you can relate to that. Thank you.
10:10
Absolutely. And, you know, I say very often, that the hospitality that I learned in the clothing business, I was working my parents stores for knives, like this talk was really ingrained in why I love the hospitality business in general, and why the restaurant business? I mean, it's all about hospitality doesn't matter. You could have the best food in the world. But if you don't have the graciousness, you're not going to succeed. And I think that is such a huge part of it. I have a motto and I can we try to live by it says devoted to excellence blessed by grace, I love that it's one of my
10:55
Oh, I related to
10:57
excellence blessed by grace, you have to be blessed by grace.
11:02
Well, I certainly believe in grace, and I've had a lot of grace shine down on me over the years in a variety of circumstances. So I can relate to that. May I ask you? Yes. Are you for my? No, no. Do you have I was curious if you went to culinary school, if you apprenticed if you're self taught, there's several ways of becoming a chef and in this industry, and it's, you know, different ways for different people. And I'm just curious what your thoughts are and how you learned all I mean, well, Chef is self taught, you are so
11:36
there's no doubt that I'm self taught. So when I was younger, I worked in restaurants. And I had an experience to work as a teenager in a health and one of the first health food stores in Indianapolis, right was all the good. And I had my own little veggie stand, I did avocado sandwiches and create little salads. And every afternoon, everything would sell out. And I was addicted. But I didn't choose that as my career. At that point, I can, I stayed within fashion in some one way or the other. As I moved into the Bay Area, I became a rep and went all over and sold Nordstroms in a whole different department stores and specialty boutiques, which got me out and about, I knew the back of nude California, like the back of my hand, because that was my territory. So as I took that on as my career, I still longed for cooking. Now I am going to fast forward to a part of my life that maybe you don't know, Roger, but my son Justin was killed in San Francisco. And from that point on, he was a good Samaritan. And he was killed in a street robbery. Terrible 1994 Yes, and this is very much the bittersweet of what turned me into a professional chef, when I came to Sedona, because I needed to get away from my memories, the Bay Area, Justin, and I moved there when he was in kindergarten. And when this tragedy took place, my life was upside down. I didn't have any excitement for my past business. And then I didn't know really what I wanted to do. And I tried to continue to go out and visit clients and things from Sedona. But that was next to impossible. I just, I was too deflated. I had come to Sedona because I'd been there one time before. And I remembered that it was such a spiritual place. And it was very metaphysical and very just nature is so much in your face in Sedona, and I thought it would be a good place to try to reevaluate my life. At the time I had a boyfriend and he moved over with me. He was a professional chef. I had been dating him only for about a year. And I used to go to the restaurant that he worked at and in the Bay Area. He came with me and after about a year, a restaurant space was offered to us. And ironically, it was right next to another Italian restaurant but for the fact that my boyfriend was Italian. He was a Roman, Italian and I loved cooking Italian. We put our talents together at the time. I mean, I didn't have that much experience But I've always had a work ethic. And so I became a sous chef started creating my own sauces. He was brilliant with Asante, he had a lot more of a background. He had worked in many restaurants and when he came over from Italy, but we teamed up, we started a restaurant 26 years ago called caliente, Luka. After a period of time, we fell apart the stresses of the restaurant business, there was a lot of just stuff that I don't advise for others to unless they really are solid with their partner. It's difficult to be in a restaurant, too volatile personalities, or at least different personalities, see things different ways. You know, what can go? Oh, yeah, it's very it can be it can be great. But it can also be very challenging. And I don't want to go into all the details. But being a woman chef, it was still very much a man's world. There was a lot of machismo in the kitchens, and there still is, but things are, as we know, much more ambivalent in in that way now, but 26 years ago, in Sedona, Arizona, it was a very different scene, as they call it. And
16:29
I had to find my own identity. And when I was able to buy out my partner, I had to establish the respect and and that even in the community, quite honestly, now, I've always really been philanthropic we always gave to all of the local charities since met. In fact, we of course, still do. And but in saying that, I had to find my own identity in a way that was tangible. And I wrote my first book, and I call it the elixir of life. And the elixir of life. My subtitle is finding love and joy through the passionate pursuit of cooking. So I did teach myself how to cook. But as I had said earlier, my influences of the cooks in my life, my mom, my grandma, and my nanny, were really what molded. My style. No one taught me to cook in my family. Nobody did that. But I knew my style. And I knew that I wanted to really elevate the beauty of food in in my own individual way. So when I wrote the elixir of life, all of a sudden, people took notice of me as a chef, not just my partner, because my partner at that time, would be out there in his shining white chef coat. And I was always hosting in the evening, which is what you do when you have your first Mom and Pop restaurant. I didn't feel that as being recognized as a chef. But to be honest with you, Roger, I was working my fingers to the bone. When I wrote my book, the elixir of life, I've got the front cover, you'll see how pretty it is. It's now actually it's 11 years old. And it's my Italian Bible, more or less, it still sells. It's uh, you know, the squash blossoms on the cover, and there's so much romance in this book. But the foundations that are in this book, were the creations that I developed. And that was, I didn't, I didn't want to do all our proprietary dishes. I wanted to teach people how to cook. From my perspective, the foundations of Italian cooking in the sauces, so they could have derivative sauces. So it's a beautiful book, it's really timeless. And you know, I'm just very proud of it because actually, it was written as my memoir as my salvation for how cooking kept me going and the giving service to others. And so here we are. 26 years later, that restaurant is going strong. It's amazing restaurant, you would be in love with it. People come from all over and say that our delicate Italian style is big city I just had somebody from Canada last night say why don't you open in Ontario I was like, Oh no. But but it is I'm I couldn't be more proud of my original restaurant, I keep my partner's name on the sign in the logo, of course, because he was part of the foundation as things evolved, he moved on, but we have always revered his contribution to the restaurant. So I will keep it as a legacy for for him as well.
20:24
So big Italian influences. And one more thing in common, I had the opportunity to live in Italy for a summer back when I was in graduate school, and that sort of inspired my first restaurant, which was woodfired pizzeria and authentic to Napoli. And, you know, I spent quite a bit of time in Tuscany, and I'm in love with the Tuscan Hill towns and the wines and the food. So you know, that's what it's all about. And now you have restaurants that are sharing that that cult, that strong culture of passion and history, and tradition, and wine and food, and just just the experience, the universal language is food, but there's something special about Italian culture and, and, you know, the culinary really is
21:01
and honoring. And you know, it's funny, I'm not Italian, but yet I feel Italian. And I'm always asked if I'm Italian. But there's the feeling of the soul in the Italian cuisine, and the integrity that I live by, I do have a Latin inspired restaurant. And I feel equally in passion to that culture, of course, and I'm not Latin. But these are, these are worlds and, and cultures that I feel I want to express in the way that I feel it through cooking. And it's, it's really, I think, it's what has kept me going through such a tragic loss, I just actually had the 28th anniversary of Justin's crossing, over on March 27, which is notated in the introduction of my second book, which I'm sure that we're going to talk about. But my second book took a lot longer to write, because I had more restaurants and there was more distraction. Right? The absolutely the first, the first book was like it was purging to get out of me,
22:28
it was a healing process for you. You know, it was an absolute healing process, you had to go through that process to, to pass your grief and to rediscover who you were reinvent yourself and to emerge, you know, in a better place. That's a beautiful thing. I mean, it's tragic is that was I'm sorry to hear, there's something beautiful about you creating that book now for others to benefit from and to understand the grief and the passion and the soul. That is what you're talking about.
22:56
Well, I thank you so much for saying that. Because my my image, my mission for that is to hope to create healing for others. You know, there's, we all face tragedy in our life. When I cook, I immersed with my son in a way that I know he's looking over me. And that's how I feel about the restaurants that I've developed and designed. I always feel like he's my co pilot. And I refuse to not believe that. So even when I wrote my first book, many times I had that experience of guided writing, where it was effortless. It was just like a download. And my hand did not stop moving. I'm I never wrote either of these books on a computer. Eventually, they go into digital form, but I write in longhand. And when I hear that little voice, it says, It's time to write. I just let it flow. And, you know, it's very cathartic. I think that the writing process itself, it allows a lot of a lot of healing in itself. So thank you for that. Yeah, these these books are something I couldn't be more proud of. They're both self published. So that has been, it's been very joyful to finally for the second book, because that took quite a bit longer. Because we were going through a pandemic and all of these other things and I opened a restaurant two and a half years ago called butterfly burger, right before the pandemic. And so I got a little bit distracted, but once I realized that I could not let it linger on I got real serious and you know, when you do see my book, I'm gonna send it to you Roger, that's the second book, of course. But I wrote the introduction on March 27 2020, just as we were locking down all the restaurants. And we closed five restaurants, and at the time, had over 300 employees. And we pretty much at that point had to let go of almost all of our employees, we tried to keep our kitchen staff and we did the best we could, we were definitely in survival mode, like so many other restaurants out there. But the poignancy of the timing of the introduction, I'll never forget how that was the lightning rod that was defined to me that this book is going to get done one way or the other. And it was, you know, writing books is hard, because you have to take your large scale recipes that you can do in your sleep, down to home chef, and it's a lot harder to go that direction in the other direction. But but I I'm very happy that that we got it out right before Valentine's Day.
26:11
Well, let's call the romance with food do
26:13
you care to share called Eight, I'll show you the cover. It's called a romance with food. And it makes that perfect companion to
26:22
it's like a sequel. Oh, it is so and it draws you right in. It draws you
26:30
and Scott Yates my significant other. And I took a trip to South America before Mariposa was finished, just to get a sense of the culture of the food and go to the wine countries, especially in Argentina, but we went to Chile and Uruguay. And Scott is a self taught photographer who is absolutely brilliant. And we knew at the time that we were going to capture great photos. And I felt that it was going to be for the cookbook, of course, we also came back with a conviction for the style of the food that I felt would be really great in Sedona in this gorgeous place that we have this beautiful restaurant called Mara post let inspired grill. And so now, eight years later, the book has manifested and people can enjoy having the recipes of the food that they enjoyed. And they praise the empanadas and the chimichurri. So I put it right on the front cover. So it's like a proud mom,
27:49
oh, I guess how much time you spend in the kitchen now versus overseeing a growing restaurant, you know, Empire I mean, literally just keep expanding have multiple beautiful concepts. They're world class restaurants clearly. And just the details that it takes to run one restaurant, I call it the business of 1000 details because there really are requires such a hands on, you know, it's amazing to have a team that you can rely on that you can empower to, you know, be there when you're not there. But I'm sure our audience would love to hear how you go from one successful restaurant to another to another, especially after coming out of the pandemic, when you tell the story about having to let so many people go and now you're rebuilding your regrowing and just emerging from the ashes. But it's it's a it's a monumental achievement to have one successful restaurant because it is such a challenging business. And you are now moving on to number six. So there's no easy answer to this. But how do you do it?
28:44
It is a huge question. And thank you for that. Each of my restaurants developed more or less organically. It wasn't. I'm going to take over this town type thing. I mean, this was a very interesting way that they evolved. First with volunteer logo, which I mentioned is 26 years film. It's very small. It's a boutique restaurant seats about 100. And it's proud baby. But I had an opportunity to put in another restaurant across town across town. Here's only 20 minutes away 20 minutes without tourist traffic. It can be an hour these days, but that's par for the course. But at the time. When I came out to the other area called the village of Oak Creek in Sedona. I opened a beautiful restaurant that's Italian and Mediterranean, and it's now 18 years old. Those two restaurants were about nine years apart. It wasn't until I had an opportunity to take this cute little corner across from darlin to Lucca Pizza Hut opiates Add many people guess they see the way it looks. Now they say was this a pizza it was but you can hardly tell it's very cute.
30:08
I can picture that you've I'm sure you've transformed it into your own vibe. Oh, it's
30:12
so cute. You got to come and check it out. I love it. So darling. But it was my first opportunity to do a woodfire pizzeria. And I was intrigued with it. I was intrigued with you know, the dough, the the making an authentic pizza, I really love the neapolitan style pizzas, but I also liked what I tried in trust every in in Rome, the more simple, little bit more structured to the crust, a little less wet. But I found the style of crust that I wanted to use as the canvas. And it gave me an opportunity to be creative in a in a different way. But I developed a unique way that we do our toppings. And I used my mother sauce, which is the foundation sauce from my first book and that we've used in our Italian restaurants for all these years. And now it's eight years old is called PISA Lisa, and that is the concept that we're in the process of having our second one in hopes of a prototype. Now pizza business isn't as easy as we make it seem. I don't think it's easy at all to be honest. Because as you know, when you're dealing with a product such as the dough, you have fluctuation of many different ways, whether it's air moisture in the air elevation, there's many things and it's temperamental. And the water is important as well. Absolutely, absolutely a night. Again, it's to me, this pizzeria is extremely unique. It's very natural. There's delicious tapas plates and gorgeous organic salads that we're known for. You'll hear people in town say, Oh, we've got the best salads. Well, we're very prideful about those. They're all organic and great ingredients, great layering. But that became kind of a passion. But it really, it kicked me It kicked my you know what, the first couple years because there was it was so much different than the fine dining restaurants that I had. It was I wasn't totally expecting some of the criticism initially, you know, we were we were not as systematic in our timing and getting the food out right away. But now here we are. Eight years later, we do sometimes in his teeny little restaurant or 2500 square feet, there are times that we do 500 covers it. I mean, it's a phenomenon. But it's still very, very hard. But people just adore the pizzeria that we have in. And it makes people happy. And that's what really brings me joy. And I love our crew. But like you were saying the turnover was devastating. I don't think I knew how hard that would be rehiring people. And recruiting has been one of the most difficult things that I've ever faced when you think that you've seen it all. Going through this pandemic, whether you're in a small town like us, which is always struggled for labor, I could go on and on about that we had labor issues, because we're high density, very popular now more than ever, tourist towns. So it was always kind of a little seasonal. Now, it's balanced a little bit since the pandemic, but it's always been pretty hard. But now, it's harder than ever before. It was
34:07
challenging, getting the new employees. But what I find has been the most difficult has been the ongoing training and bringing people into your culture, didn't know our restaurants from before. And that has been one of the most exhausting of all of the elements that we're all facing. And I'm sure this is the same whether you're in a large city or not. But for us here, there's only so many people to go around. Sedona itself is only 12,000 residents. And so it's very difficult here too, because we need to draw on areas outside of ours like Phoenix like Scottsdale, but those markets are so hot as they have been for or at least last five, six years, as you well know, it's one of the top restaurant demographic towns in the country. It's hard for people, they want to live in Sedona, but it's hard for them to find places sometimes. So this has been enough to make you pull your hair out, and it's still going on. I mean, we're still fragile. We're still struggling in several of our restaurants to get our teams built back the way they were. But the good news is that I think through this, we, we are stronger foundationally than we were before, our management teams are really dedicated. And I believe that we'll get hopefully to the next level where we can just kind of be prepared for the influx of the tourism that we haven't Sedona, because it has been a little town on steroids for quite a while. But it's it's like everybody has discovered us. And we only have so much labor right now to really deal with our high season, which officially just starts in April. Yeah,
36:15
I mean, so many issues here. Affordable housing, of course, it's a very popular tourist destination. So housing is limited. Housing is expensive. Obviously, it's very hard to staff a restaurant when people have to commute from outside areas. Are there areas that people do commute into Sedona that work? Absolutely. In other industries, restaurants as well, there are they do,
36:37
they'll they'll commute sometimes, as far as from Flagstaff, Flagstaff is about an hour depending on which way you go, that usually isn't the most desirable because at some point, they would tire of that. Yeah, but we're in an area called the Verde Valley. And we have small towns actually bigger than Sedona, but a town, cottonwood and, and Camp Verde. And we do draw from those areas as well. I mean, we're recruiting from outside the area, but I've had so many disappointments, when I really thought that I'd met just a chef or manager that would just fit perfect, and it was a mutual fit. And then they literally could not take the job because they couldn't find a place to live. And it's heartbreaking. So you know, we're hoping for more affordable housing, but those things don't happen overnight. But it is what I think will stop us in our tracks. We have so many people that want to live here. And yet there's really, even in terms of fine homes, it's tapped out for the most part, just like other towns like ours that are beautiful and exotic accessible from larger cities. I mean, you can fly in from Phoenix and be in Sedona in under two hours. And that makes it really quite a gem you know, for tourism in 2019. We be right before the pandemic. We had just served about 475,000 guests in our restaurants at that time. We only had the four butterfly burger had not opened hadn't had his first year I should say. And now it's it's just a little rock star butterfly burger is so unique. But we only had in a cute names. Yeah, that's that's perfect. It it's so fun. It's such a great concept of burgers are out of this world. It's common that I'll have people say that it was the best burger they ever had. I'm like, Oh my gosh, but they're very unique. I entered, I entered the Scottsdale burger battle before I had concepts. I just thought it sounded fun at the time. Mariposa was chest opening and it was open for lunch and I had some great burgers on that menu. And long story short, I entered the Scottsdale burger battle. And I won the People's Choice that was in 2016 with a burger I called gringo burger. I entered a couple other years and I won the judges choice. And I know I sound very humble at the time, but I was like, Oh my God, but everybody said where's your burger place? Why don't you have a thought yet? Of course, and I sit down and they go sit down. But after after a while I I decided I want to have a burger concept. So I took the stars of those wins. The gringo the Waco kid and the funky sublime. And I created the menu. And it's it's just doing great. We have gourmet shakes. It's It's heavenly. You would love it but we have some wonderful vegetarian burgers. So matter of fact, I just did a demo in Palm Desert food and wine just to days ago, Sunday for my hipster burger, one of the burgers that I created when I was a teenager like I was saying when I wanted everyone to become a vegetarian, came up with a lentil walnut burger and I just demoed that just the other day and everyone loved it. It's just fun. It's a very diverse menu. But I've I've condensed it, like we all have, we've condensed our menus to really maximize our, you know, scales of economy, right in, in every in every restaurant. So the menu is fairly manageable. But I'm a condiment queen. So I love fabulous a Ollie's and sauces and, and just wonderful condiments and oils and things of that nature. So my prep is always harder for than it appears when you look at a menu. There's many layers, and I think that what has created our popularity are those, you know, you just bite into these burgers. And it's like, they're just habit. I mean, they're, they're literally heaven. I'd love for you to come out and try our restaurants one of these days.
41:14
And they all have funky names, too. It's kind of lends itself to the, you know, the flavor of the character, the sure that helps to sell them and just gives buzz something for people to talk about, especially when they're award winning and the Aeolian and the toppings I can just I can visualize the venue and taste it.
41:31
I just know that you would adore it because I think that the layers I just every burger has to have a purpose that draws you to the one that you would be most attracted to. Yes. And you know, my favorite will always be the gringo burger. The Louis room a lot is out of this world. And to me, it makes me say give me some extra sauce. But then we do these wonderful butterfly butter, buttermilk fried crispy onion strings. And you know, I love an incredible nice rich white cheddar, the Louise sauce, and then the crunchy elements stack nice and high and you bite into that. Like it's got everything. I just love it.
42:15
Fantastic. Now you also have another concept is it called cucina? Rustica is that still
42:20
continuous ticket? Yes, cucina. Rustica is the second restaurant that I mentioned to you right after DND called darlin Toluca, right? cucina is it's a gorgeous restaurant. It's it looks like you're going into a villa in Europe, wherever that your imagination takes you. I mean, I created with a Spanish influence. But it's Mediterranean and Italian but it's it's beautiful in every way with a big courtyard. But the menu it's, it's, it's called cucina Rustica, which means rustic kitchen. And so the cuisine is a little less stylized. It's just comfort food, Italian and Mediterranean comfort food. I do Mediterranean plates and things with hummus and Thomas, as starters. But everything is very natural. I, I could tell you that I would eat in my restaurants and do pretty much seven days a week. And I feel so good about our food. Because every single one of our restaurants align with the same philosophy. We use all organic produce to the best of our ability, I'm sure that it's 90%, let's say. And we source our meats, we're very proud of our meat sourcing. I use a lot of Creekstone Farms, that is my preferred our burgers, our Creekstone. And our meats, we use the best of seafood sourcing all of our seafood we insist is approved by the Monterey Bay Aquarium. So for me, it's keeping the philosophy of sourcing is key and methodology and keeping the methodology as clean and simple and concise, to get the highest result, which is consistency. I think that the worst thing that could ever happen is when it is not as they remember to me, that's a sin. And that's something that I take as serious as can be. And by keeping our methods and the integrity of the food as unfettered lets the food shine and lets us create memorable dining experiences.
44:44
How much time are you spending in the kitchen now versus overseeing your kitchens? Actually,
44:50
it's it's it's a it seems like it should be a very easy answer, but it's not people call. You're still in the kitchen If, and I say yes, because as I had said, the training and retraining is still, it's still tantamount to keeping the quality control. So I find myself going into kitchen sometimes to troubleshoot. Because we're short on staff. Of course, we have new people, and they have to know the culture and the style. And they have to see that the owner will walk the talk. It's not something that I sit on, on some pedestal hidden I go into my kitchens, and I do cook. Right now. I'm not so much in development. I'm trying to get caught up on things with Pisa, Lisa to opening we're trying to get our labor, our staffing is still not where it needs to be. We need to get into the kitchen and start creating our our dough and working with the staff. But we don't have a full staff. So that's very stressful. But I'm also trying to recraft the menu a little bit because I do want to add a few new if T items. I've got some ideas I can't wait to do because in this new restaurant, I'll have two ovens in in pieces. So one, we only have one small wood oven. As I told you, we do sometimes 450 to 500 covers with an oven that is actually best for about five pizzas at a time. It's like a it's like a contortion. You can't even imagine that. I mean, I'm amazed every time I see we push the envelope. Sometimes for six. We do tremendous amount of takeout business. And in the past, I never before the pandemic. I didn't think you even needed take up business in the pizza business because I was like my pizza and going into a box. But oh contraire. Our pizzas go in a box. We have a way to keep them warm. People are as happy as can be. And now we're about a 30% takeout business in our pizzeria. Well, the new pizzeria is going to be much larger. We had started this the desire to go into this location before the pandemic. So we've had two years of like nothing burger goodness. And now we're just held up we've got the certificate of occupancy, but we need the labor come on over everybody. We need cooks. We need chefs, we need managers but we we will not be able to open until we can staff is going to be a gorgeous place. I mean, it's just darling. It's a lot bigger, will have more retails, some grab and go. And I'm excited. But I'm also realistic that we are still in a struggle here because things aren't back to normal by any means.
47:56
I found it really therapeutic you get behind the oven, and I've probably cooked a couple of 1000 woodfired pizzas in my day and our oven was custom built by a mason it looked like an igloo inside. It was a total convection oven. We could fit about 15 in there at one time. But I'd say stay on your toes moving 15 pizzas with a blazing fire in the back because obviously we'd have to spin them and rotate them. There's hotspots in the oven. It's like you had to get to know the nuances of that oven in order to cook in it. But I'll tell you if you had 15 pies in there you are moving pizza.
48:28
Oh, I love it. I I can't even tell you how much I relate to what you're saying. Because it's an art form. And there's a passion. It's almost like a primal thing and I look up to my kids that are the pizza pizzaiolos I'm like you're God's to me. But I would tell you when I opened my first pizzeria eight years ago, I worked in it all the time. For me that was one of the most fun times. I mean, looking back on those days, I can't believe how far we've come. It's really sad to me in some ways, Roger, but there was so much excitement and and there weren't these challenges and I'll never forget, at least for the first year. I would love to be on the deck making the pizzas. And every time I make a pizza I have this kind of like a creative love affair with the process. Something I'll tell you that will, you know touch your heart. I named the pizzas for my for my parents. My father was in love with pizza. He grew up in Chicago, and he quartered my mother as they were dating in the years at his favorite restaurants so he would always go to his favorite pizza joints in Chicago and in New York. Take my mom but my dad loved Italian sausage. So he wanted to double sausage. You know that was his way we're going to have double sausage pizza. So, when I started the pizzeria, my dad passed away just a few years before and I was still very sad. I wanted to have a pizza in his name him being a Chicago guy. I call my pizzas by my mom and my dad's names that Dorothy de Herbie and Justino. And as I'd be making the pizzas looking at the tickets that I needed to Dorothy, and as I'm making the pizzas, somehow, I was actually like healing myself to hearing their names, which kind of brings me to tears right now, when I was making these pizzas and calling their names. It was also like, they're watching over me, they, they're hearing their name, they're watching over me and I, my mom got to eat a lot of Dorothy pizzas. They weren't as heavy and sausage, but it's a great pizza, I have to tell you, it's just a very simple, we do some proprietary things to our sausage. And she loved that federal sausage. So anytime I took my mom, you know, she was in a wheelchair for the last few years, but we would never not have Dorothy, and she was so proud of it. And she'd take him back to the assisted living and share him with the people that were taking care of her and things like that. So she passed just before the pandemic. And I guess that's what I'm saying is that the culture and the spirit of doing things, knowing that it's a healing process, I never want to not be in a kitchen. It keeps me young, I adore doing that. But it's, it's almost like that becomes a luxury. But I'm certainly in the kitchens. And when I can just immerse in the creative process, which a lot of that, for me is teaching people that want to learn. I think that people, it's going to be more and more rare for people to want to stay in the culinary industry, because a lot of the younger people who are going to be, as we were saying the millennials and younger, they, their passion, they have lots of avenues to pursue in terms of career opportunities. So when I find someone that really cares about the food, it's kind of an old soul type of thing. They're not as prevalent as we might have found five years ago. Now, if you find someone in there, and they really care, and they're talented, you have to tell them why we do the things we do, why we go the extra mile. That's where I really get excited. I was mentioning I was at the Palm Desert food and wine. And I had three different events that I put on. And I got a chance to work with some young culinary students, they had a fabulous culinary school there. And many of the kids were the volunteers, of course from the school. And we were preparing on Saturday for my Sunday event where I would be on the stage. And without those kids, and they were strangers to me. But I took them under my wings. And we had such a great time. And I gave them both of the two kids. I had said I'll I'll give you a cookbook, you know as a reward. And I thought maybe they didn't care. Maybe they forgot about it. And after my demo on Sunday, here came the kids saying, You said I could get a cook, but it's like it really was such a it meant so much to me that they really wanted to cook look, you know what I'm saying horse. That's what we're investing in now are is the youth. And it's very rewarding.
54:04
Yeah, it's gratifying to give back. And it's gratifying to share the knowledge and to share your love for food and to see people that really want to be part of this business. And like much like yourself, this is a business that I've seen, you really don't need a formal education. You don't need to go to college you can literally rise up from in my case, I had a dishwasher that started at age 15. And he stayed with me 15 years and mentored him took him under my wing and he bought his own restaurant 15 years later. So it's amazing what can happen in this business. And I know you've seen that you continue to develop your people and it's it's gratifying to watch them shine and rise into their own. It's just a beautiful thing.
54:45
I love the similarities that you and I have. I mean, it's really it's really refreshing. I would tell you that you know, I didn't have the luxury of going to culinary school as you know, the way I told you that My love affair of, of restaurants, Justin and I had planned to have a restaurant together. He loved food we cooked every evening, like moms and Sons too. But we always had a house full of kids coming over, because we are darn good cooks, I was not a professional chef. But anytime someone had a party or an event, I was good enough, even pre pre owned restaurant ownership to take on a very large parties and do them very well. Probably because my mother was very organized. You know, we had a lot of parties in our in our home when we were kids. But I somehow had that in my DNA. And I knew how to prepare for larger volume. So when I got into the kitchen with my first restaurant, you know, start with a piano sauce this big, but it went this big, it's big. And before you know it, you know doing huge events and things. But that experience of learning from sort of survival mode or learning how the resources, you run out of something in a small town where we're going to get it, you're not going to run to the grocery store, you're going to knock on one of the other restaurants and say, Hey, can we borrow the bass someone will pay you back tomorrow. I mean, those type of resources are what I think develop you in terms of always wanting the very best and learning how to do things. You certainly miss out on many of the technical aspects that I wish I had. No, I mean, here I am. I'm learning new things because technology is so much a bigger part of things now than it was we were Mom and Pop restaurants until until mera posts that was built in Mira posa is the big kahuna. We had over 100,000 guests. The first year that we opened amazing, we really didn't even know what we were doing. Wow. I mean, how can we be serving this many people? Sure. But but the menu is fantastic. It aligns with the beauty of the property. It's a it's a very it's an earthy menu. I mean, it's it's got something for everyone. It's a steak and seafood grill, but with a heavy emphasis on vegetable dishes. And I do many of those vegetable dishes in a large Munia Nene oven. probably similar to the one that you were mentioning that you could put 15 pies. I used to do flat breads in that restaurant. And it was very difficult because we do the octopus in the oven. Right polpo we do many diverse things. We we do a chicken dish. The flatbreads, were really kind of I loved them, they were fabulous. But they kind of got in the way when you need to finish off meats and things of that nature. But yet it was it's still very active. We do so many great dishes. But I wanted the earthy quality wood oven. wood fired grill. So yes, we do have conventional ovens and and and gas burners and things of that nature. But the essence of the food is almost like going back. I called myself one to a female take cave caveman because I love the idea of the fire. I was very inspired by when I went to her away and went to Francis moments, restaurants and then just that that earthy quality, which pretty much was like how I grew up in Indianapolis, the backdoor barbecue, as I say, you know, steak, corn, good tomatoes, lots of potatoes, but healthy versions, but really prime quality. So it's kind of a it's kind of like a Heartland type of earthiness that, that I love and that I have in, in all of our restaurants. The food is simple, but it's also very, very delicious and lots of flavor and lots of color.
59:24
Our audience very familiar with the cooking shows, and we all like to watch the cooking shows. Can you tell us how you came to be on that show beat Bobby Flay and tell us about that experience.
59:34
It was scary. So I'll be honest, it's kind of a great little process. As far as how I got on there, I believe that I was source somehow I don't know how they recruit but somehow I was asked to be on it. And and, of course I wanted to do that but I knew that it was chanting. Long story short about that. I was originally asked to do we you put in many different choices. It could have been a plan permission, it could have been seafood pasta. I put in an array of different things that I would like to do, of course, and it's that I they said, Could you do a burger? And I said, of course. And it sounded too, too good to be true. So I chose a gringo burger. And they everyone was was happy with that choice. About a week or two. Before I went on, they said that they realized that they had just had a burger episode. And would I be able to do sliders with my burger instead? I said, Well, yeah, I guess so. Honestly, I was the process had been going on for a while. And I just said, yeah, why not? Well, I realized even in Sedona, when I was testing my method for my for the sliders, that I was going to be very tight on time. Because I have multiple things that made the burger what the burger was, in a full burger, those would be easy to achieve. Still tight on time, but with regular size burgers. When we change to sliders, it's very difficult to be that nimble. And to do fried onions, chimichurri sauce, all the steps to Louis Roumeli. All the steps, and little teeny spiders. What I did not prepare for and as I'm sure that you are any of the folks that are listening to this podcast that might have seen this, that the judges said, This is not a unanimous decision. Well, they love my flavor. And they actually loved it better than Bobby's, but some of my burgers were over cooked. And I make no bones about it, I lost fair and square. But here's the deal, I'm not going to do it again. But if I was doing it again, and anyone that might be, here's the advice I would give you check the heat on your, for me it was puncher, there were two punches. And they had been pre fired. Who knows how long before I come on the stage, I missed that. And I didn't, I would have won, if I had have not missed that. Because I didn't get down and look to see the heat and the heat on the back ones was too high. So I was kind of dead in the water from that aspect. Because my burgers tried out their little, you know, three ounce sliders. So I find that in any challenging situation that I've been up against, you're always going to learn something. So people say, you know, how I felt about the experience, I lost because those burgers are not as they should have been. Some of them were perfect. Some of the judges got some that weren't overcooked, but you need to be able to know all the variables. And if you leave, and you say I'm glad I did it, because I learned something that I can now teach to others. And it and for me, it is the gift that keeps giving because it's been seen millions and millions and millions of times. I will be honest, I don't like competition shows for my own self. Because for me, I take my time in the art and things that I think are all about speed. And getting it done. It's really not me. I see. And I don't think I'm a chicken. I think I'm very clear, though, that things that make you rush a process to when they're not really my my best bag. So I got a lot out of it, though. And it's Yeah, yeah, it was very scary. It's very scary. But if I went in again, do anything like that, I would be better prepared for what you need to do to get set up because you have so little time to get your your music paws prepared.
1:04:24
Well, that was a genuine answer. Thank you for your transparency. I think you're right. It's all in the learning experience and what you can learn and pass on to others and, you know, improve yourself. So we all have those, you know, experiments and failures and triumphs and successes and everything. And that's part of the journey of life.
1:04:41
So yes, absolutely. Just the other day doing the event that I mentioned to you a lot of this skills, or things that I learned, I applied and when I got out onto the stage, I was like check every single thing because I had multiple, you know, multiple items that needed had to be prepared in a short period of time. But having that experience made me a stronger chef,
1:05:06
you mentioned obviously, the passion for being in the kitchen. But I can also I can almost see your heart being in two places, because you're such a warm, genuine personality behind your restaurants. And obviously, you have a following, and you have a certain, I'm not sure if obligation is the right word, because it is a genuine feeling for your guests. But you have to spend a certain amount of time touching your regulars and into reaching them in a personal way and appreciating their, you know, their patrons, rising your business and all those things that go with it. And you just get so pulled in so many directions in this business. And that happens when you have one location. But then when you have 4567, it's like and then you you know, you move around. And obviously you're in all the different restaurants. And you are a personality in Sedona no question about it. So I don't know how you get anything done. Focus, right,
1:05:56
we'll take that as a compliment. I mean, I have to tell you, I don't even know these. Because I do have a lot on my plate. I think drawing back on what I said in initially, I think I Midwest background, and the genuine way that I was brought up. All of the kids in my family, were in the service business, we worked in our parents stores, right, we liked making people happy. When that shifted, my brother started working with me at our first restaurant at the end, he was the front of the house, I was in the back of the house. And then of course, I'm sorry, I would always come out at night, I always come out and engage with the guest it to me, that's the soul of the experience is touching base in touching tables is the expression, right? But there's not a night that I don't try to go to at least three or four of the five restaurants. I have changed in the last, just briefly, I've decided that it's better to go in and spend a little more meaningful time in two to three restaurants than to try to make the so called rounds. I was doing that up until the pandemic. And now I feel like it's more important to go out go in, it's important for the employees who are our family members to also know that I'm not, I'm not gone, I'm far from gone, I really connect with both, I go into the back door and my kitchens. And I see sometimes I see too much. I mean, I go in if I don't see something I like I have to get engaged. You know, you're all being this gorgeous outfit. I'm like all of a sudden on the salad line making salads. But if I see a salad or something or somebody that's new, but they don't have the balance, I stop in my tracks, I keep a chef coat in each restaurant. And if it's needed for me to go in, or if I say you know, I got to Spacek something, I always do that. But I really liked the polarity of doing what I do in the daytime. And then going in, in the evening, a little diva ask, as I said, I tore fashion. And I love both sides of it. But at the end of the day, it is service, we are giving service to others. And and Roger, I, you know just have to get touched sometimes. Because when I think of the fact that this pandemic has taken so much out of so many of us. And when we look at what lies ahead and the uncertainty, we don't always know how things are going to end up. So we only have today. And every day, we have an opportunity to touch lives and make an impact. When people come up to me in lately, many mothers with their kids, their daughters, my daughter wants to be a chef, will you sign a book for her? Or will you let her come and see something in the kitchen? I mean, it's like a rebirth. That's taking place all the time. And I'll tell you, I can be stopped in my tracks any day of the week, when I'm just in there to say hi to people and all of a sudden, I realized this is a higher calling. It's not. It was never about the money for me. It was always about the purity, the love, but you know, I didn't start until I was I'm not gonna say by age, but I didn't start until I was in my 30s Let's say and so this has been the most rewarding career I could have ever chosen that aligns with who I am, which is a person that basically likes to see people happy and fulfilled. Because I don't think that this is just going out to eat, I feel like you have an opportunity to leave an indelible memory for someone in their dining experience. And whether I'm there or not, if they can't taste the soul of the food, and the intention is just another place to go out to eat. And that to me is mediocrity. I never would stay in the business for that. I have a mantra, and I live by as much as I can, every day. When you cook with love, you feed the soul. And you know, when you think of that, over the years that you have, that, you me, that we are serving millions and millions of people, and when they go out there, and they've had a great experience, and they can taste the love. And they've had wonderful service. And, and all that is involved in a wonderful dining experience. It's a ripple effect. And somehow what we're doing is a good, it's, it's good for the planet, you know, it's a good career. And I love what I do. But it is harder than it's ever been. And to keep the joy in every day. I know I've got my hands full with a sixth restaurant, and I wake up every morning thinking, we need a little miracle here. We need some great people. And we'll get we'll get started.
1:11:27
I think all that will happen to you. You have another monitor that you shared with me earlier. And it's a beautiful sentiment devoted to excellence and blessed by grace. Yeah, I couldn't think of a better way. You've been an amazing guest on the podcast, you shed so much love for food and love for the business. And there's just so much key nuggets of information that I know our audience is just going to love and and benefit from. So thanks so much for being with us.
1:11:52
Thank you, Roger. I'm so honored. And I really hope that people enjoy this podcast and maybe they get a little bit out of it. And when it comes to work for us.
1:12:02
Well, we're gonna share all your information, obviously in the show notes. Your website is doll restaurant group.com. And that spelled da HL restaurant group.com. That was the restaurant rockstars podcast. We'll see everyone in the next episode. Stay well, everyone, and thanks for being with us. Thank you so much, Lisa, for being a great guest on the podcast and for inspiring us. You're doing great things for the industry. And I was especially inspired by your guiding light your mantra of devoted to excellence and blessed by grace. So thanks again and stay well. Thank you also to the sponsors of this week's episode Davao, the auto pilot for sales tax, check that out, as well as the restaurant rockstars Academy. Those of you who've been listening a while know that when I ran restaurants, I was obsessed with profit. And you should too, especially now during these crazy times with rising costs and prices and shrinking margins. So why not head on over to restaurant rockstars.com I'm giving away absolutely free a copy of how you are killing your restaurant profits three different ways. This is thought provoking and actionable information that you can immediately apply in your restaurant and do so quickly because we're giving away also a free bonus of a restaurant assessment. Whether you have a new restaurant concept or you're just starting your first or you've been in business while and you've got an existing restaurant, we have a copy of a complete restaurant assessment. It's thought provoking information that will really help you dial in your operation. So check it out and get it today at restaurant rockstars.com Thanks again for tuning in. We'll see you in the next episode and we wish you all to stay well everyone.
1:13:41
Thanks for listening to the restaurant rockstars podcast for lots of great resources, head over to restaurant rockstars.com See you next time.